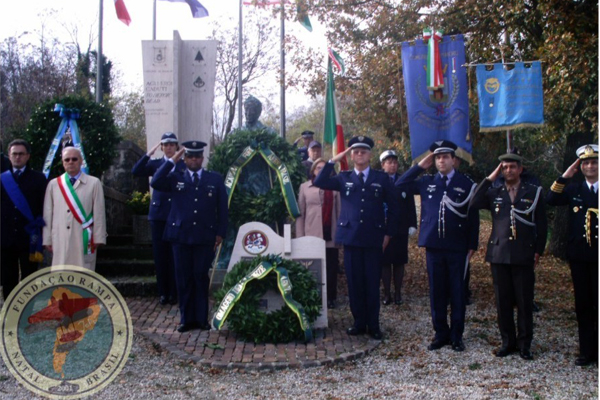 Brazilian and Italian authorities celebrated in 2012 at Liverguano, Comune di Pianoro, Bologna Province, the date of death of John Richard Cordeiro e Silva, a Brazilian Air Force pilot killed over there in 1944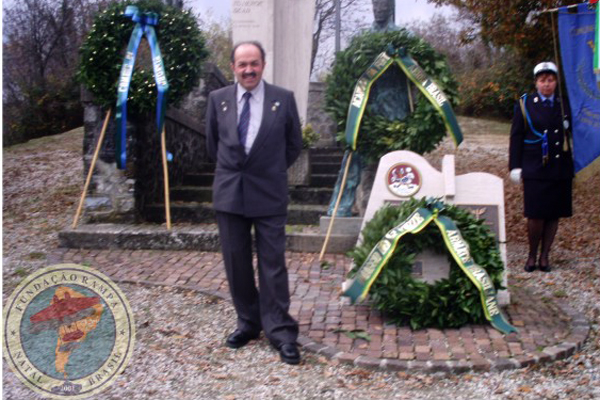 Our contributor in Italy, Massimo Mazzanti, in front of the Monument of the at Livergnano in 2010. He was invited to attend the ceremony in honor of John Richard Cordeiro e Silva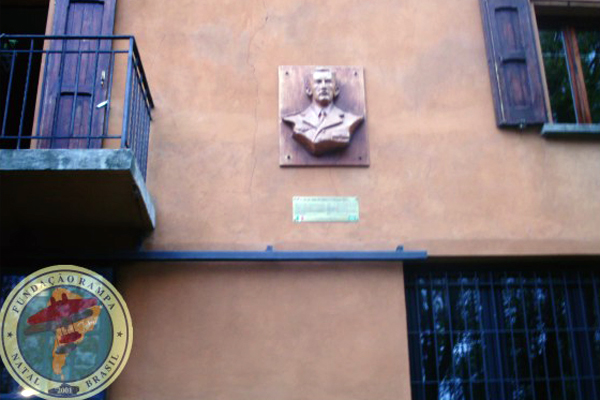 There is a bust of Ft. Lt. John Richardson Cordeiro e Silva at Livergnano, close to Bologna in Italy, where he died in 1944 while flying for the Brazilian Air Force with the USAAF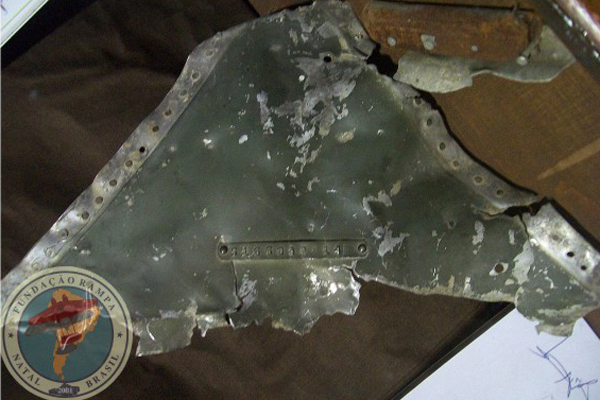 Parts of John´s planes were found in Livergnano. In this particular part, manufacturing number for his plane was fond.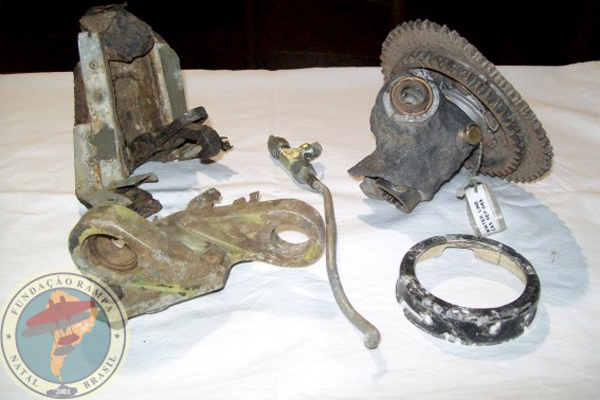 More parts of John´s planes
Our contributor in Italy, Massimo Mazzanti was invited to participate in the Cerimony in Honor of a Brazilian Air Force WW2 pilot, 2ºTen.-Av. John Richardson Cordeiro e Silva, fallen in battle in Livergnano in 1944..
The Cerimony took place November 7th, 2010 at 10:30 local time at Monumento al soldato di Livergnano. At 11:30 a flower wreath was placed by John Richardson's bust.
Present, Brazilian authorities, Fl. Col. Sergio Roberto de Almeida, Brazilian Attache for Defense and Aeronautics in Italy, CMG Sérgio Nathan Marinho Goldstein, Brazilian Attache for Defense and Navy in Italy, Col Orlando Roque de Simone Brazilian Attache for Defense in Italy, Ft. Col. Jorge Antônio Araújo Amaral c/o Aditância de Defesa e Aeronáutica, ColAv Ivo Rodcz Filho Head of RECABI, TenColPil Felipe Cruz Velasco RECABI, SoDilson José de Oliveira Coadiutoredell'Addetto per laDifesa e Aeronautico, SO Donizeti Furtado de Oliveira Coadiutoredell'AddettoNavale, ST João Batista PilonetoCoadiutoredell'AddettoMilitare, 1st Sarg. Cosme de Castro Caetano Coadiutoredel Capo della RECABI, a Delegation from Brazilian Air Force Academy with 16 members. By the Italian side, Gabriele Minghetti, Pianoro's Mayor and other regional authoritie and Gruppo Amici di Livergnano, which offerd a cocktail at the end.
Brazil sent a P-47D squadron to Europe as part of the Allied effort to defeat the Nazis. This squadron was trained in the US to fight as an USAAF unit under USAAF orders.
At the begining, Brazilian Air Force pilots flew within USAAF's 350th Fi. Gp squadrons, 345th, 346th and 347th. We were the fourth squadron of the group, known by the Americans as 1st Brazilian Fighter Squadron.
That was the case when our John Richard was flying as the forth plane on a 345th formation. He was hit by Flak on the first run. With his engine on fire he managed to hold the plane but without power to gain altitude to bail out with parachutes and losing the speed he gained from the dive's recovery, he tried an emergency landing over the enemy lines on rough terrain, south of Pianoro, on the Gothic Line, close to Bologna. As he touched ground his P-47D-27-RE s/n 42-26872 exploded to small pieces. He was not schedulled to this flight, he was a reserve to Lt. Perdigão, whose plane hit a pole prior to take-off, damaging the wing.
Fl. Lt. John Richarson was Brazilian Air Force's first combat loss in Europe.
But the most significant event of the day was finding an eyewitness to John's death. Massimo found and interviewed Sig. Arbati Remo, a young man at the time, he saw the plane going down on fire over his "paese" and a couple of Flaks hitting him after that. At Livergnano there is a Museum in honor of the Brazilian Expedicionary Force (FEB).
Massimo was also invited on July 20th to Santos=Dumont Celebration and December 13th to Sailor Day.
Grazie Massimo!
Livergnano, ComunediPianoro, Bologna Proviceofficial site: www.comune.pianoro.bo.it/news
phone 051 6529 119 - 143 Italy